Educational Game
Macro Mania Game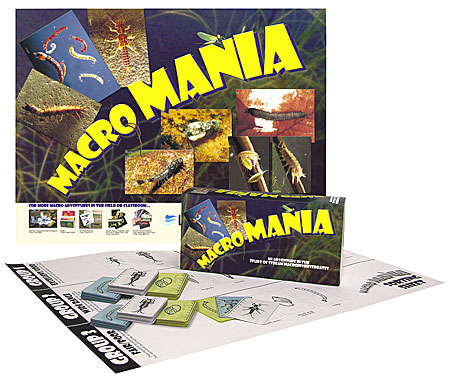 Macro Mania is a classroom adventure that introduces the use of stream macroinvertebrates to determine water quality. Lecture material sets the scene for the activity that shows the connection between aquatic macroinvertebrates and water quality. Great for elementary, middle school, and special needs classes too. Prepares students for field trips to investigate water quality using the Leaf Pack Experiments Stream Ecology Kit and Full color Identification and Life Cycle/Habitat Flashcards.
The game is currently in the hands of educators and resource managers throughout the U.S., including several agents of the Natural Resources Conservation Service and public Aquaria and Science Centers in Washington, Alabama, Tennessee and California.
Macro Mania is now a bilingual English/Spanish game and can be purchased directly from LaMotte.
Macro Mania is a scaled-down version of BIO-ASSESS©, an advanced card game developed by an Auburn University fisheries researcher Dr. Bill Deutsch. He invented and copyrighted the game in 1993 as a tool to train AWW volunteers in identifying aquatic bugs and their ecologies and using that information to assess water quality.